University of Ibadan Course Registration Guidelines: Are you ready to embark on your academic journey at the University of Ibadan for the 2023/2024 session? The following comprehensive guide will walk you through the seamless process of course registration, ensuring you start your academic year on the right foot.
How is UI course registration conducted?
Course registration at UI is conducted at the beginning of each semester. It involves selecting the courses you will take for that semester from the list of available courses for your faculty and level of study. The process is fully online via the UI Portal.
To register your courses, you first need to log in to the student portal and access the course registration platform. Here, you will be able to view and select courses based on your study plan. It is important to carefully go through the course requirements for your department and stick to the recommended number of credit units.
Join any of our Social Media Pages to receive Latest Updates!
After selecting your courses, you can proceed to register them. Your registration will then be reviewed by your Head of Department before final approval. Once approved, you will be properly registered for the courses you selected.
Below is a detailed breakdown of the step-by-step process involved in registering your courses on the UI portal:
University of Ibadan Course Registration Guidelines
Preparing for Registration
Before you begin the course registration process, it's crucial to be well-prepared. Here are some key points to consider:
Courses to Register: Consult with your department to determine the list of courses you should register for this academic session.
Prerequisites: Make sure you meet all the prerequisites for the selected courses. Failing to do so could lead to registration issues.
Unit Limits: Be aware of the minimum and maximum unit limits set by your department for course registration.
Payment: Ensure that you've successfully paid all mandatory fees and levies, including school fees, technology levy, and utility levy, before proceeding with registration.
Course Registration Steps
Now, let's go through the step-by-step process of registering for courses:
Step 1: Log into the Student Portal
Visit the University of Ibadan Student Portal at https://student-portal.ui.edu.ng and log in with your credentials.
Join any of our Social Media Pages to receive Latest Updates!
Step 2: Access the Courses Section
Once you're logged in, click on the "Courses" tab on the dashboard.
Step 3: Initiate Course Registration
Choose the "Course Registration" option. Verify that your personal details are accurate, and double-check the minimum and maximum unit requirements set by your department.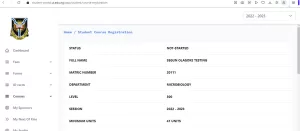 Step 4: Browse Available Courses
Scroll down the page to explore the list of available courses within your department.
Step 5: Add Courses
Under the "Action" column, click "ADD" for each course you intend to register for, and confirm your selection by clicking "Okay."
Step 6: Add Additional Courses (if needed)
If you wish to register for courses outside your department, including General Education Studies (GES) where applicable, click the "Add other courses" button. Enter the course code in the provided text box (without spaces or special characters). Make sure to select the course status before clicking "ADD Course."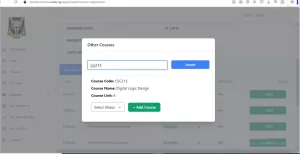 Step 7: Review and Confirm
Join any of our Social Media Pages to receive Latest Updates!
Repeat the process for adding more courses as necessary. Once you've selected all your courses, click "Submit course registration" and then "Okay."
Step 8: Print Your Registration
After submission, you can print out your course registration for your records. Keep in mind that your registration status will initially be "NO" until it's approved by your course level coordinator.
Step 9: Approval Process
Regularly check the portal for updates on the status of your registration. Your coordinator will change your status to "YES" upon approval.
Editing Your Course Registration
Before the registration period ends, you have the option to edit your course selection. Here's how:
Click on "Edit Course Registration."
Make any necessary changes (add or remove courses).
Click "Submit course registration" and then "Okay."
Step 5 – Check Registration Status
You can check the status of your course registration on the portal to see if your HOD has approved the courses selected.
To check registration status:
Go to "My Registration" on the student portal.
Select the semester to view registration details.
Check the status column to see if your registration was approved or declined.
Approved – Indicates successful registration.
Declined – Means selected courses were rejected. You will have to edit course selection.
Make sure your registration status is "Approved" before the deadline.
Troubleshooting UI Course Registration
Sometimes students may face issues when trying to register their courses on the UI portal. Below are tips to troubleshoot common course registration problems:
Can't log in to student portal?
Reset your password if you have forgotten it
Visit ICTC office for portal access issues
Courses not showing?
Select the right semester, faculty, department & level of study
Portal may be having technical issues, try again later
Timetable clash?
Adjust your course selection to avoid clashing lecture times
Contact department for advice on resolving timetable issues
Maximum credits exceeded?
Stick to the required credit units for your level
See your HOD if you need to exceed the credits
Registration closed?
Ensure you are registering within the stipulated period
Contact your HOD to open registration to add or adjust courses
Registration declined?
Review feedback remarks from your HOD
Consult your HOD on which courses need adjustment
Unable to print course form?
Ensure you have registered courses for the semester
Try printing from a different browser
For Additional Information
If you encounter any issues or have concerns during the registration process, don't hesitate to contact your course level coordinator/adviser. Keep in mind that unapproved registrations will not be considered for attendance, continuous assessment, or examinations.
For additional assistance, feel free to reach out to the following email: [email protected]
Adhering to registration dates, requirements of your department, and the step-by-step guidelines outlined above will ensure a smooth and stress-free course registration process on the UI portal.